SF Buzz Blog
In order to keep up rapidly with the incredible volume of news, we've established the SF Buzz Blog, a rolling and on-going news delivery service.
The SF Buzz Blog has everything news-worthy in the science fiction and fantasy arena. As fast as I get the news, I'll blog it here.
News Updates
---
October 20, 2005
From SciFi.com - SciFi Mag: DECEMBER 2005 VOLUME 11 NUMBER 6
HOLIDAY MOVIES
RETURN OF THE KING Peter Jackson has been obsessed with King Kong since childhood, and audiences everywhere will soon understand why. By Tara DiLullo
CHARLIZE, ANGEL Charlize Theron's back-breaking stunt work could turn Aeon Flux into a monster hit. By Patrick Lee
SKY KIDS Two kids discover a game that sends them to outer space as director Jon Favreau rolls the dice with Zathura. By Todd Gilchrist
LION IN WINTER C.S. Lewis' seven magic volumes of The Chronicles of Narnia have thrilled millions of readers for half a century, and now we'll finally be able to see them on screen. By Resa Nelson
DOOM'S DAY The Rock has been hunting for a suitable R-rated feature for years, and at last he's found it in the best-selling but controversial videogame Doom. By Cindy White, with additional reporting by Patrick Lee
PLAYING WITH FIRE The boy wizard faces the scariest fate of all — growing up — in Harry Potter and the Goblet of Fire. By Patrick Lee
FARSCAPE: WHERE ARE THEY NOW? One year after Farscape: The Peacekeeper Wars, the creators behind the best science-fiction series on television continue on their own individual adventures. By Kathie Huddleston
DANGEROUS WATERS Lou Diamond Phillips, Catherine Bell, Sam Neill, Eric Stoltz, Bryan Singer and Dean Devlin tackle one of Earth's greatest mysteries in SCI FI's epic miniseries The Triangle. By Cindy White
SCI FI HOLIDAY GIFT GUIDE They say that it's better to give than to receive — and here's all the cool stuff you should be giving! By Brooks Peck
COUNTING CROWS George R.R. Martin's gritty and violent A Song of Ice and Fire saga continues in the long-awaited A Feast for Crows. By Tasha Robinson
Source: SciFi.com - SciFi Mag
---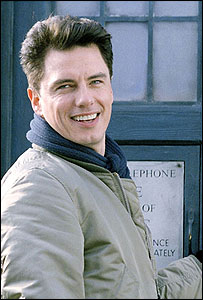 John Barrowman says he "can't wait to
explore Captain Jack more"
October 19, 2005
Doctor Who spin-off made in Wales
From BBC News Online:
A "sexy, funny" spin-off from the Doctor Who television series, is to be made by BBC Wales and set in Cardiff.
The 13-part sci-fi drama will be called Torchwood - an anagram of Doctor Who. Russell T Davies will also write and co-produce the "paranoid thriller".
Torchwood, which is aimed at adults, stars John Barrowman as Captain Jack - one of the main characters from the recent Doctor Who series.
The drama features investigators solving human and alien crime.
Mr Davies, from Swansea, said the series would be sexy, funny and very different to Doctor Who.
"Doctor Who has a completely different feel to this kind of thing. This is set in the same place every week. It's a different sort of fun to Doctor Who," he said.
"It's an urban series, very much set on earth. It's a Welsh series that I'm very, very proud of."
He said Cardiff would be used more often as a location than in Doctor Who, and that he hoped the series would provide work for Welsh actors and directors.
"With Doctor Who we often had to pretend that bits of Cardiff were London, or Utah, or the planet Zog," he said,
"Whereas this series is going to be 'honest-to-god Cardiff'. We will happily walk past the Millennium Centre and say 'Look, there's the Millennium Centre'."
"It's nice to be able to say this is the city, and this is how good it looks."
Mr Davies said the name Torchwood was used as a security measure during the production of Doctor Who to disguise preview tapes of the first episodes.
"When we were making the first Doctor Who series, television pirates were desperate to get their hands on a tape," he said.
"One of the people in the office had the idea of calling the tapes of episodes, as they went form Cardiff to London, Torchwood, instead of putting Doctor Who on it."
"I thought: 'That's clever!' I've had that taped away at the back of my head for a good six months, and now here it is as a show."
Although Doctor Who inspired Torchwood, no stories will cross over between the two series.
Actor John Barrowman said he was thrilled: "It's going to be a dark, wild and sexy roller-coaster ride...I can't wait to explore Captain Jack even more".
Filming is due to start early in 2006, with transmission for a post-watershed BBC Three audience in the autumn.


---
---