Science Fiction Gadgets
Science fiction gadgets are for the serious science fiction fan. We have taken to the scouring the web to come up with some of unique offerings of gadgets, books and electronics that make life just plain fun!
We welcome input, so if you hear of something new and unique, please email us.
Email Us With Your Science Fiction Gadgets


The gadgets section is filled with ongoing information and links to really cool, futuristic and useful gadgets that all true science fiction and future minded individuals need to stay ahead of the curve. If you live on the cutting edge of technology and science, you'll love these interesting, informative and helpful science fiction gadgets that are available today.
Science Fiction Gadgets in 2006
Visit our Gadgets & Computer Blog for up-to-the-minute information on electronics, gadgets and more:
<
Check it out here: Gadgets & Computer News
M28 Fingerprint Door Lock
Here's the ultimate in science fiction gadgets. This innovative door lock combines a conventional cylinder lockset with sophisticated high precision fingerprint recognition technology. It can store up to 10 fingerprints, and has the unique ability to delete and enroll individual fingerprints from its memory without the need of a computer link.
Very easy to install, and even easier to operate. Constructed from durable zinc-alloy metal, this lock is suitable for home or office and requires no hard wiring or complicated door modifications.
Eliminates unauthorized duplication of keys Uses standard alkaline AA batteries Warning signal when power is low 1 year manufacturer's warranty. It's a bit pricey, but still worth a look.
FIND IT HERE: www.matabiotech.com/prod.html
Own your own working light saber!
Moving Light Flows Up The Saber Blade And Appears To Evaporate Into Space
You Control This Amazing Phenomenon By Simply Touching The Contact Probes Located On The Saber Handle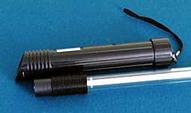 Produce the spectacular effect that captured the fantasy of millions of movie fans. Length of visible plasma field(a 10mm glass neon tube) is controlled by the position of your thumb or finger on two metal strips attached to the grip.
FIND IT HERE: www.amazing1.com/star_wars_light_saber.htm





Scrolling LED Badge
Check-out this customizable name badge with scrolling LED message. It is completely programmable to say what you want. The message can be changed "on the fly" using the 3 on-board control buttons. Up to 6 different messages can be loaded into the badge. Each message can be set for scroll speed and brightness level. To change to a different message, simply use the buttons on the back of the badge. The Scrolling LED Badge is smaller than a credit card and weighs about 1 ounce. It attaches to your shirt using a small magnetic connection on the back of the badge. The LED message is very visible and easy to read and has 9 different speed settings. The battery life is about 18 hours.
FIND IT HERE: ThinkGeek Cube Goodies

Lexar JumpDrive TouchGuard
Lexar's New JumpDrive® TouchGuard™ Uses Fingerprint Recognition to Guard Data and Simplify Access To Protected Web Sites
Lexar Media, Inc. (Nasdaq: LEXR), a leader in advanced digital media and accessories, today at Photokina (Hall 1.2, Booth-058), introduced JumpDrive TouchGuard, a USB flash drive with an integrated biometric fingerprint sensor to authenticate a user's identity and provide easy access to secured files and password protected web sites. Setting a new standard for secure portable storage, JumpDrive TouchGuard allows users to automatically login to most web sites with the swipe of a finger, eliminating the need to remember and enter usernames and passwords.
JumpDrive TouchGuard functions as a USB 2.0 hi-speed portable storage device and personal Internet gatekeeper storing and managing web favorites and up to 200 user names and passwords.
FIND IT HERE: www.lexar.com/newsroom/press/press_09_28_04.html
Zero Fog Blaster
Toy Gun shoots laser-like fog smoke rings!
The Zero Fog Blaster launches 2 to 6 inch diameter non-toxic fog rings that will sail to ten feet and beyond. Easy to use, they are great stress busters and with practice you'll be able to create bigger and better rings.
The Zero Blaster uses the same liquid that Hollywood uses in the movies to make special effects fog. Like a snowflake, each fog ring is unique, expanding at its own rate and traveling at its own speed. You'll be captivated by their beauty, mesmerized by the myriad shapes you'll discover in every fog ring you create. The Zero Blaster will provide hours of good clean fun for children and adults alike.
FIND IT HERE: ThinkGeek Cube Goodies
Science fiction gadgets are for the techno-phobe in all of us. As we find more, we'll add be adding to this webpage. Look for it.




---