MileHiCon 42
by Emily Epstein
(Denver, CO, USA)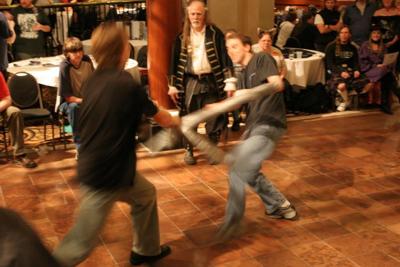 Bat'leth tournament at MHC 41. Photo by Doug Bennett
Oct. 22-24, 2010
Largest Science-Fiction Literary Convention in the Rocky Mountain Region. Over 80 authors and speakers in panels and programs on everything related to SF, Fantasy, and Horror. Also the largest SF/fantasy art show in the region, plus video, anime, masquerade, gaming, dealers, the Critter Crunch and Critter Floatilla (robotic combat and aquatic competitions), and more.

Guests of honor: authors Katherine Kurtz and Rachel Caine, and artist Donato Giancola. Toastmaster: author Paolo Bacigalupi.

Hyatt Regency Tech Center-Denver, 7800 E. Tufts Ave., Denver, CO 80237

http://www.milehicon.org/
email lindanel@ix.netcom.com
303-426-0806

Weekend membership: $42, age 6-11 half price, age 0-5 free. Daily memberships available at the door.

MileHiCon is a not-for-profit literary science fiction convention which has been run by Denver-area SF fans since 1969.