Book News: The Tete-Bech format returns to SF&F
by William Meikle
(Catalina, Newfoundland, Canada)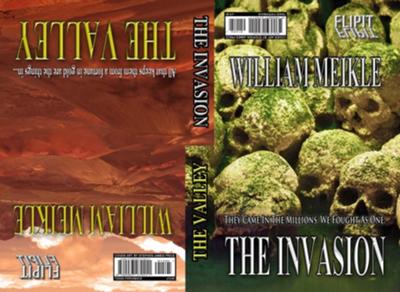 The Invasion side up
The Tete-Beche format returns in THE INVASION / THE VALLEY - two pulp adventure novels, one Sci-Fi Horror, one Lost World, both Amazon Bestsellers in their Kindle format.

Two short novels, 384 pages.

One of my earliest forays on my own into a second-hand bookstore, sometime around 1968 I guess, resulted in me finding an ACE double, a book you read both ways up, one short novel each way. The 1st one I got had John Brunner one way and Samuel Delaney the other -- my first introduction to two writers who are still among my favorites. Over my teenage years the ACE double series introduced me to many other writers, people like Jack Vance, H Beam Piper, Fritz Lieber and a youngster who went by Dean R Koontz. I have a lot of reading to thank them for.

That's one of the reasons it gives me great delight to see two of my novels appear in the same format via FLIPIT, a new imprint from Generation Next Publications.

In their Kindle format on Amazon.com THE INVASION reached #2 in the Sci-Fi chart, #4 in Horror and #1 in Occult and THE VALLEY hit #1 in Historical Fantasy.

See the cover(s) here:

Invasion up front
Flipitbook

The Valley up front
Reverse

Contact the publisher via Stephen James Price at Stephen@GenerationNextPublications.com for purchasing information.

Available wholesale through INGRAMS.

Or buy it online here:
Amazon.com

Paperback: 384 pages
Publisher: Generation Next Publications
ISBN-10: 0983279217
ISBN-13: 978-0983279211
Product Dimensions: 8.5 x 5.5 x 0.8 inches

William Meikle is a Scottish writer with twelve novels published in the genre press and over 200 short story credits in thirteen countries. He is the author of the ongoing Midnight Eye series among others, and his work appears in a number of professional anthologies. He lives in a remote corner of Newfoundland with icebergs, whales and bald eagles for company. In the winters he gets warm vicariously through the lives of others in cyberspace, so please check him out at williammeikle.com.