Greetings Fellow Science Fiction fans:

You are receiving this email from Science Fiction Buzz because you subscribed on our website. To ensure that you continue to receive emails from us, add sciencefictionbuzz@gmail.com to your address book today.


---
inside this issue:

We are looking for a few good stories....

SciFi updates SG-1 & Atlantis Episode Guides

Ben Browder Interview in TV Zone #192

Larry Edwards wins the Apollo-Starbuck Fan Fiction Video Award

Stagate Atlantis Season Two marathon

Stargate SG-1 - Season Eight DVD set confirmed for October
Battlestar Galactica Caption Contest...
STARGATE SG-1 CONVENTION UPDATE! (Secaucus, NJ)
Patrick Stewart Does Anime!
OBIT: The Loss of a Great Artist: Frank Kelly Freas (1922-2005)
Quick Links to cool, Battlestar, Stargate & Star Trek places
Featured Story
---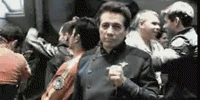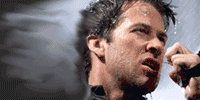 We're Looking For
A Few Good Stories - Notable Fan Fiction To Spotlight.
We are looking for a few good stories to highlight in our Dradis Approved Fan Fiction and Science Fiction Buzz Approved Fan Fiction section of the Buzz website.
We will provide those exemplary writers of fan fiction with a spot on our site (http://www.sciencefictionbuzz.com) and in our archive (http://www.worlds-of-wonder.com), along with a button highlighing your accomplishments. In addition, we will give you a linkback to the your website so that folks who read and like your work can find more of your writings. We will also provide an email link and a small profile about you so that people can get to know you better.
We are looking for stories in the following categories:
- Battlestar Galactica
- Science Fiction
- Stargate Atlantis
- Stargate SG-1
- Star Trek
Send an email with the Story Name, URL of where it's located, Author's name and email address or any variation thereof. You can also send the story.

SciFi updates SG-1 & Atlantis Episode Guides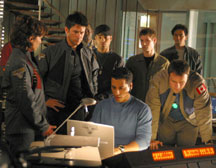 SciFi Channel updates their Episode Guides for Stargate SG-1 and Stargate Atlantis. Find it here:
Stargate SG-1 - "Avalon - Part Two" (Episode Synopsis & Photos)
Stargate Atlantis - "The Intruder" (Episode Synopsis & Photos)
Atlantis Knowledgebase
DID YOU KNOW... Now that the Atlantis team possesses a zero-point module (ZPM) to power their stargate, they can connect a wormhole all the way from the Pegasus galaxy to the Milky Way - meaning they can travel to Earth nearly instantaneously. Earth, however, lacks a second ZPM to power its own stargate, so the return journey from Stargate Command back to Atlantis still takes roughly 18 days by ship.
July 22, 2005 - An entry about the Wraith Hive Ship has been added to the Tech Section. It can be found here



---
We've added a Crew Page
The crew is made up of a motley bunch of folks who got together and decided to put up a website focused on all the fun aspects of science fiction, fantasy and Luddite IT services, bringing the best of technology that the Amish have to offer. The Technocrat has joined our merry crew, and we've started a story. It just gets zanier and zanier.

With that said, we are constantly out there tripping the Rift, practicing Tai Chi, flying at warp speed and generally blasting bad aliens out of the cosmos. (that's Gunmetal's job)

In between all of that, we write and post stuff, maintain a few blogs, make wallpapers, email and IM everybody and anybody who vaguely knows us and generally have a lot of fun. That it; that's our story and we're sticking with it.

We are writers and artists all, living by the philosophy that you don't wait for inspiration; it may only come every fifteen years, even if it is prize-winning inspiration. Better to adopt the mantra favored by most "working" writers and artists: butt-in-chair, hands-on-keyboard or pencil on sketchpad.
---
Ben Browder Interview in TV Zone #192
New SG-1 star, Ben Browder, has crossed the gulf of Space in Farscape, and now he's exploring Avalon with the SG-1 team, as the squad's latest member Lt Col Cameron Mitchell. We go on set to find out what's in store for him in Season Nine.
Read the full article here....

Our thanks to: PinkHearts over at Puddle Jumper, SGA for this interview.
Puddle Jumper Yahoo Group

Also, visit Ben Browder online here: Ben Browder Online

FYI: There are 200 Avalon screencaps on this site and lots more.


NEWSFLASH! Stagate Atlantis Season Two marathon
There is a SGA Season TWO Marathon is scheduled for Tuesday, August 23rd, from 7pm to 1am.
---
Stargate SG-1 - Season Eight DVD set confirmed for October
From a post at Gateworld

Season Eight of Stargate SG-1 will arrive on October 4, Sony Pictures Home Entertainment confirmed today. While no details about the contents are currently known, the 5-disc Region 1 (North America) set will come with a suggested retail price of $55.95 -- significantly less than previous seasons. (Season Seven carried an SRP of $69.96.)

As with SG-1's recent releases, the set is expected to include audio commentaries from the cast and crew on all 20 episodes, bonus featurettes, and more. We'll report on the exact contents once Sony/MGM makes the announcement.

READ THE FULL POST HERE
Battlestar Galactica Caption Contest...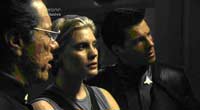 The Old Man: "Back when I was a pilot, we didn't have any cushy landing gear. We had to put our feet out and really land manually."
Apollo: "That was the Flinstones dad and no, you didn't."
Starbuck:"Manual feet landing? I've been wanting to try that..."


Posted by hprevan2

Battlestar Galactica Caption Contest Here



Larry Edwards wins the Apollo-Starbuck Fan Fiction Video Award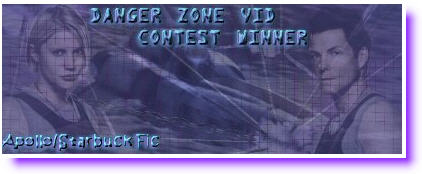 Larry Edwards', Danger Zone video, won the Apollo-Starbuck Fan Fiction Award. They've posted a banner and link to the video for you to download. Scroll down, it's near the bottom of the page.
Find it here:Starbuck-Apollo Fan Fiction Archive

Results from our Stargate Atlantis Poll

Results from our recent Stargate poll are here. This had to be the most hottest polls we've ever run. Being used to getting 100-200 votes per poll, we have been astounded to receive over 6000 votes. We didn't realize that there was such strong feelings on both sides of the aisle on this point. We have included the poll results, and will be rerunning it in a couple weeks as well to give everyone a chance to vote. We were using a small polling place, and had to move up to a larger operation to accomodate this poll.
Special thanks to Morjana of the Fans of Joe Flanigan link, SG-1 Spoilergate group for reporting on our polls.
Visit our other on-going, new polls at the following addresses:
Haeng Bok, known to be a bit whacky, came up this poll, "Who would look good in a dress?"
Everyone has a fair shot, and depneding on who you vote for, she's prepared to create a custom wallpaper showing that person all dressed up in heels and accessorized. Oh God, Col. Tigh in a dress! Now that wallpaper would definitely attract attention.
Stargate SG-1 Convention Update (New Jersey)

- From the Meadowlands in scenic Secaucus, New Jersey:


There is a red-hot convention planned (and we don't mean the weather!) with MICHAEL SHANKS, CHRISTOPHER JUDGE, DON DAVIS, PETER WILLIAMS, ALEXIS CRUZ and GARY JONES! Audiences have been having a GREAT time visiting our tour stops and we're happy to be coming to our old hometown with a winning weekend of entertainments!

TODAY, we have announced and posted for sale at our site, a new ACTING WORKSHOP taught by the very talented ALEXIS CRUZ. It is set for outside of the convention hours (Saturday 10am) and here is a bit of how Alexis describes his class:

Acting Freeplay Workshop with ALEXIS CRUZ will be Saturday at 10am.
"It is designed to reveal insight into the actor's craft from the ground up and take students through a kind of crash course in various acting styles, which themselves are very basic core concepts that can be used by anyone throughout their life such as: observation, visualization, special awareness, tactile sensitivity, movement/kinesthetic, breathing, vocal work, skill aquisition and memory-reflex exercises.

The workshop consists of a series of warm-up exercises before moving on to more increasingly complex theater games and improv scenes that utilize and develop these core skills.
Limited attendance: $40 a ticket Get more info and reservations here: CREATION CONVENTION INFO


---
Patrick Stewart Does Anime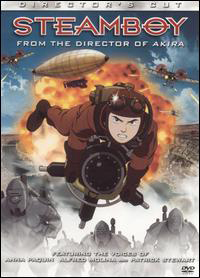 These days we take it for granted that major anime features will get a nationwide theatrical run in the U.S. This was not the case in 1989, when renowned manga artist/writer Otomo Katsuhiro's cyberpunk classic Akira took the art house circuit by storm. Nearly twenty years later, he has finally returned to the director's chair for his second animated feature, Steamboy, and it's another rousing adventure brimming with imagination.

. . . Steamboy boasts a distinguished English dub cast: Anna Paquin plays Ray, Alfred Molina plays Eddie, and Patrick Stewart is Lloyd. The latter two are very welcome because they can effortlessly deliver an appropriate English accent. Overall, it's one of the best dubs I've heard . . .

READ THE FULL STORY HERE
OBIT: The Loss of a Great Artist: Frank Kelly Freas (1922-2005)
by David A. Hardy

Frank Kelly Freas passed away in his sleep at his home in California in the early hours of Sunday, 2nd January, at the age of 84. He had not been in the best of health for some time, but even so his death will come as a shock to his many fans.

He leaves behind his wife of 16 years, Laura Brodian Freas, a daughter, son and six grandchildren. He was a graduate of the Art Institute of Pittsburgh.
Kelly is, however, even better known in the fields of SF and comic art. He started drawing Buck Rogers spaceships in kindergarten at the age of seven or eight and later admired the SF work of Virgil Finlay and Ed Cartier, but also the astronomical art of Chesley Bonestell. His own first professional work was in 'Weird Tales' November 1950 and he went on to produce covers for most of the major publishers - Daw, Ace, Lancer, et al - and famous writers, including Asimov, Clarke, Heinlein, Van Vogt, Pohl and Anderson. He has won the Hugo Award for 'Best Artist' 11 times! He gave us sleek spaceships, humanoid robots, entertaining aliens, weird landscapes and (lots of!) exotic women.
READ THE FULL STORY HERE
Quick Links
---
Featured Site of the Week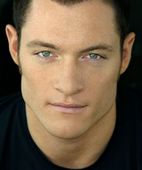 All About Tahmoh Penikett (Helo)
This is a very a good fan page and news site about the actor Tahmoh Penikett, now on Sci-Fi's Battlestar Galactica.

Learn more about Helo at this informative and timely news website located here.
---