Greetings Fellow Science Fiction fans:

You are receiving this email from Science Fiction Buzz because you subscribed on our website. To ensure that you continue to receive emails from us, add sciencefictionbuzz@gmail.com to your address book today.


---
inside this issue:

James Doohan Dead At 85

Website Changes

Heroes and hormones

Star Trek Online Official Site Is Open

We've added a Crew Page

Battlestar Galactica Caption Contest
Battlestar Galactica Caption Contest...
Wallpaper Heaven by Darklord
Who's Your Favorite Stargate Atlantis Character? Poll Results!
Featured Story
---
Dradis 499: Are You Out Of Your Mind Bi-Weekly BSG Writing Contest Returns
The winner of the July 16th contest is Rangerlord with his entry, Down a Different Path. He has other fan fiction at his website located here: Rangerlord Fan Fiction
We are going to feature a different character every other week. Called Secrets Kept, Secrets Revealed, you can either write about the secrets that this character keeps or is keeping from others or a secret or secrets that are revealed to others. This is a bi-weekly contest so entries are due on Saturday, July 30th @ 11:59 pm.
We're increasing the word count to 499 words, so that you can lose your mind, at the suggestion of some of our cramped-by-word-count writers, although you don't have to go that long or you can go slightly longer if you need to in order to get the secret resolved. It can be anywhere from 99 to 499 words (eg. 99, 199, 299, 399 or 499 words)
The character, by popular vote is Apollo.. What's his secret? What lengths will he go to in order to keep that secret?
All new banners will be issued for this contest.

James Doohan Dead At 85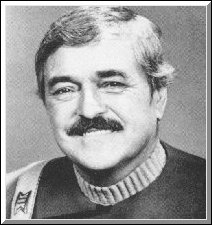 James "Scotty" Doohan, dead at 85. While he did a number of different characters during his acting career, he made his biggest impact in the classic, television series, Star Trek, in the 1960s as the fiesty Chief Engineer of the starship Enterprise. This cult classic went on to influence generations of fans with its positive outlook on the life, taking a stand against bigotry, putting forth the idea that we can all live together in harmony and truly explore new frontiers of space when it was still only a part of our imagination. During the turbulent 60's, Star Trek stood out as a series that was neither naive nor cynical.
Each week, we travelled with the crew of the starship, Enterprise, and James Doohan's portrayal of Scotty was an integral part of that series. We can only say farewell to Scotty. We truly believe he goes to a better place, and that, as McCoy said in Star Trek: The Wrath of Khan, " He's not really dead. As long as we remember him."

About Our Website
Science Fiction Buzz is constantly evolving and updating both it's news and fanfiction section. We're running a bit behind on our newsletter this week because we've been updating and organizing our website as well as adding this newsletter archive for back issues. Do stop by and check out the changes. We've also added is an Site Update page where the changes we're making are tracked. We've also added main pages. Look for them in > ALL CAPS < like this.

- LINK TO US -
Let us know & we will link back to you!
You can find our banner and tnail by going here:




CLICK HERE LINK TO US!
We've added a Crew Page
After running this website for about six months, we decided to add an About Us page. In keeping with our zany, offbeat sense of humor, we couldn't keep it straight and boring.

The crew is made up of a motley bunch of folks who got together and decided to put up a website focused on all the fun aspects of science fiction, fantasy and Luddite IT services, bringing the best of technology that the Amish have to offer.

With that said, we are constantly out there tripping the Rift, practicing Tai Chi, flying at warp speed and generally blasting bad aliens out of the cosmos. (that's Gunmetal's job)

In between all of that, we write and post stuff, maintain a few blogs, make wallpapers, email and IM everybody and anybody who vaguely knows us and generally have a lot of fun. That it; that's our story and we're sticking with it.

We are writers and artists all, living by the philosophy that you don't wait for inspiration; it may only come every fifteen years, even if it is prize-winning inspiration. Better to adopt the mantra favored by most "working" writers and artists: butt-in-chair, hands-on-keyboard or pencil on sketchpad. Meet The Science Fiction Buzz Crew...
Heroes and hormones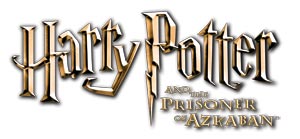 Harry learns more about his mysterious nemesis -- and the brutal reality of being 16 -- in J.K. Rowling's tricky, but ultimately satisfying, penultimate volume in the "Harry Potter" series.

The penultimate book in J.K. Rowling's Harry Potter series was always destined to be the trickiest of all seven novels. The books are a clever mixture of two hallowed genres -- the British boarding school adventure and epic fantasy -- with the earlier installments being more of the former and less of the latter. With each new volume, the balance edges more toward what we all know is coming at the very end: a major confrontation between good and evil, when Harry will face off against his nemesis, Lord Voldemort. The sixth novel, "Harry Potter and the Half-Blood Prince," has the unenviable job of preparing the field for the final showdown, and for the first time, Rowling wobbles just a bit in pulling off the task she's set for herself. In the end, though, she regains her footing and "Half-Blood Prince" comes together, making it not quite the most graceful novel in theseries, but perhaps the most impressive.

Star Trek Online Official Site Is Open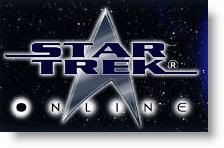 Perpetual Entertainment has launched an official site for the upcoming Star Trek massive multiplayer online game (MMOG), including a new FAQ describing "a persistent world where hundreds of thousands of players immerse themselves in the world of Star Trek."

The Star Trek Online site describes development as in pre-production and says that full development is expected to take at least two years. The game will be available internationally for a monthly fee.

Here's what they have to say:

Star Trek Online is a massively multiplayer online game where you will join Starfleet and explore the greatest wonders and discoveries from our galaxy and beyond. You will team up with thousands of other players as you advance from Starfleet Academy and master your skills aboard a starship. Your journey will take you to far-away posts at the fringes of known space where you will carry out missions to establish contact with new civilizations while protecting the values of the Federation during a time of rising tensions. Rising through the ranks will test your abilities as a warrior, diplomat, explorer, and most importantly: a leader. Play your cards right and you will one day become Captain of your own starship and chart your own course to the final frontier.

Battlestar Galactica Caption Contest...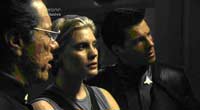 The Old Man: "Back when I was a pilot, we didn't have any cushy landing gear. We had to put our feet out and really land manually."
Apollo: "That was the Flinstones dad and no, you didn't."
Starbuck:"Manual feet landing? I've been wanting to try that..."


Posted by hprevan2



Wallpaper Heaven by Darklord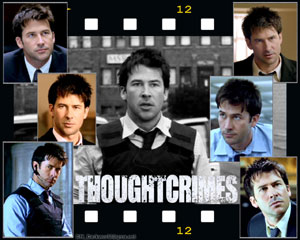 Darklord's Wallpaper Heaven received the Buzz Stamp of approval and is featured in our Stargate Atlantis Wallpapers Page. Great Sheppard wallpapers and a compilation from his movie, Thought Crimes.
Darklord is a German group that puts out Stargate Atantis (among other) wallpapers on their website, Wallpaper Heaven. They are quite good and free for the download. This website has recieved the Web Report Bronze Award for excellence.

Results from our Stargate Atlantis Poll
Results from our recent Stargate poll are here.

Visit our other on-going polls at the following addresses:

Visit the Science Fiction Buzz and take the polls!
Quick Links
---
Featured Site of the Week

VIPER MKII Video Archive
This is a collection of videos focussed on the pairing Apollo/Starbuck and submitted by a very active group - with the Apollo/Starbuck Fan-Fic Group.

Battlestar: Apollo/Starbuck Fan-Fic Videos
---